No, we aren't really talking about cuisine or fine dining or any of the culinary arts.

But I will pass along a recipe that I include among those arts and it's yummy and it's relevant to my art idea today. It's at the end of the post.

So one afternoon, I made a chocolate desert and let my daughter have one of the mixing bowls. This is one of those childhood indulgences that I thought she ought to have access to, but she soon found a different use for the chocolate.



And she isn't alone. Lots of artists have worked with chocolate, which is a phenomenon I can't fully explain. Among them are Janine Antoni who made this piece called Chocolate Gnaw in 1992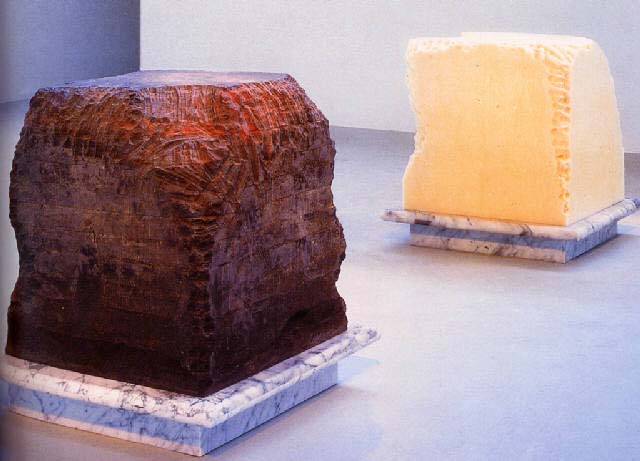 and Vic Muniz who I wrote about back in January for his sugar art. He's also done marvelous things with chocolate syrup. Here's an example from 1999



Antoni's huge hunk of gnawed-away chocolate deserves more attention than this, and I guess Muniz's work could also use some more explication. But I'd rather have some chocolate. If you'd like to join me, here's the recipe that became the medium of my daughter's creativity.

Inspirational Chocolate Dessert *
4oz. semisweet chocolate
½ cup heavy cream
3 egg yolks
5 egg whites
3 tbsp granulated sugar

Line a jelly roll pan with foil, butter it, and turn the oven on to 425 F.

Roughly chop the chocolate and melt it together with the cream in a small-ish sauce pan, stirring constantly.
Remove from heat and add the egg yolks one at a time, combining thoroughly after each one.
Return the pan to low heat for a few minutes, stirring all the while to cook the yolks.

Beat the whites with a handheld mixer for a few minutes until they are fluffy but not firm. Add the sugar, and continue beating until stiff peaks form.

Fold the chocolate and beaten egg whites together.
Spread evenly in the jelly roll pan, and bake for about 20 minutes.

Remove from oven. Cover with a tea towel, and invert on a table or countertop. Place the pan to the side, and gently loosen the foil from the cake.

Allow to cool completely.
Cut away any crust that may have formed a the edges of the cake.
Spread with something ridiculously tasty, like peanut butter cream frosting (equal volumes peanut butter and real whipped cream, blended with enough confectioners' sugar to give it the consistency and taste of frosting).
Roll it up and serve.

*yes, I named it all by my onesie.